Home
Registration
Facilitated Courses
Current Course Schedules
General Information
Course Content
Graduate Credit Option
Moodle Course Login
Self Paced Tutorials
Teacher Enhancement Training
Research / Archives
Office of Educational Technology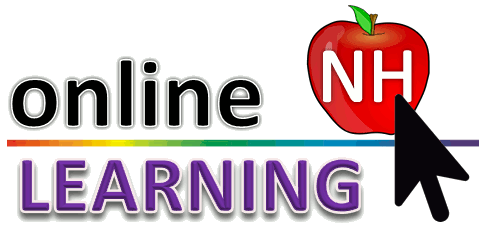 About Us
Contact Us
About the Course Delivery
OPEN NH courses are delivered in four sessions each year. Each Session runs for seven weeks. The content is broken up into units, which are one week long. Units begin on a Wednesday and end on the following Tuesday. This puts the weekend in the middle of a unit, allowing for greater flexibility. The courses are asynchronous, which allows you to login and participate at a time of your choosing. However, due to the discussion-bnased nature of the units, you do have to participate regularly throughout the 7 weeks of the session. Sessions all have a Wednesday start date.
Winter Session: early February - late March
Spring Session: early April - late May
Summer Session: early July - late August
Fall Session: Early October - late November
View complete session schedule for details.
Not all courses are offered each session.
OPEN NH Orientation
View this presentation to get an orientation to our program.
OPEN NH Course Login
About the Course Content
The facilitated courses in the NH eLearning for Educators catalogue are offered in several content areas along with instructional strategies and pedagogical practices. Some courses were developed by the original national partnership, while others were developed and customized to meet specific needs in New Hampshire. Still other courses are developed and maintained by EdTech Leaders Online, a partnership that remains from the early days of the grant funded project. To find out the specific courses in our program, see the Course Content section below. Click on a category of interest to read course titles and descriptions.
Download Registration Forms
General OPEN NH Registration (pdf format) for mail in registration. Online registration is available.
Mail-In Form District Cohort (spreadsheet format)
Course Session Schedule Learn what courses will be offered in each OPEN NH course session.
For online registration links, visit the Registration page.
Course Delivery Model
NH e-Learning for Educators uses a discussion based delivery model for our facilitated courses. Each course begins with an orientation week that allows you time to get used to the course delivery system (Moodle), meet your fellow classmates, and refresh your background knowledge of the course content. Following the orientation unit, courses continue with six weeks of heavier content load and expectations, emphasizing theory-to-practice applications. Course work includes online discussions, reflections, readings, and a final course project. Upon successful completion of the course, you will receive a Certificate of Completion for 35 professional development hours that may be applied to their individual professional development plans.

Course Syllabus
Each course has a syllabus with 7 units of content and a final course project. Learn what each OPEN NH course will deliver for content and view the course specific grading rubrics.

Course Assessment
Participation in each course is assessed using a general course assessment rubric.

Professional Development Categories
OPEN NH offers courses in a variety of categories, based on content or pedagogy. For listing of courses and descriptions, visit the course category pages below.

Course Categories

AS

AR

BP

CE

EC

LA

HE

IE

LT

MA

SC

SS

SE

VG

Videography

WL

World Languages

Teaching Enhancement Courses
OPEN NH also offers courses that expand and augment your teaching practice. Courses in the The Teaching Enhancement category are not offered in the regular session schedules, but are run separately. These courses also have a separate registration fee schedule.




Plymouth State University
Participants taking courses as an individual or with the group option can also earn 3 graduate credits from Plymouth State University for an additional per credit cost and registration fee. In order to earn the graduate credits, participants must meet all regular course criteria and earn a Certificate of Completion plus submit an additional paper, reflecting on their significant learning experiences in the course, to their course instructor. The OPEN NH instructor will act as the instructor of record for Plymouth State. (Graduate credit is not available for self-paced tutorials.)




Last updated April 3, 2017